Acorduri de colaborare cu parteneri internaționali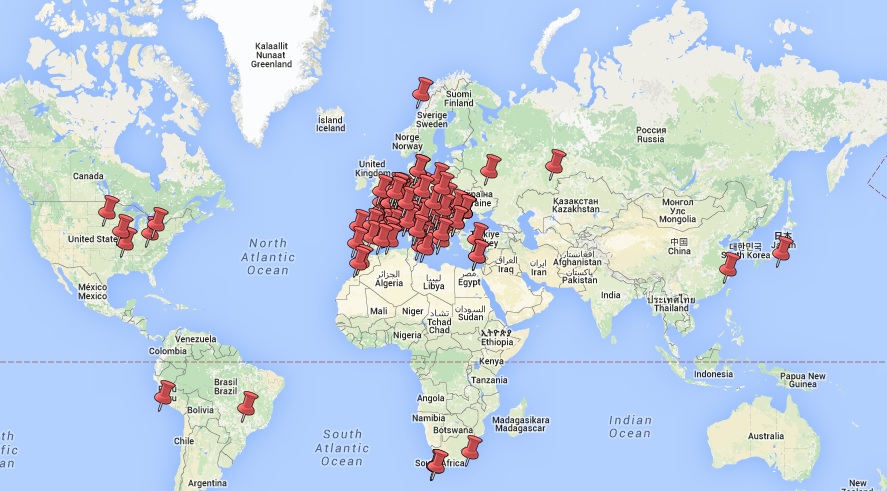 Acordurile bilaterale facilitează schimbul de studenţi şi cadre didactice ȋntre Universitatea de Vest din Timișoara și instituțiile partenere, precum și participarea acestora la manifestări internaţionale organizate la UVT sau ȋn străinătate. De asemenea, acordurile bilaterale oferă cadrul pentru dezvoltarea proiectelor internaţionale de educaţie şi cercetare. Universitatea de Vest din Timişoara a încheiat acorduri bilaterale de colaborare cu următoarele instituţii din străinatate:
University of the Western Cape
University of Natal, Durban Pietermaritzburg
School of Public Leadership, Stellenbosch University
University College "Beder"
Mohamed Cherif Messaadia Souk Ahras University
Institut fur Geschichte an der Karl-Franzens Universitat, Graz
Sonargaon University (SU)
The University of Antwerp
Federal University of Minas Gerais (UMFG)
Universidade de Brasίlia
University of National and World Economy
Université du Québec à Montréal
Université du Québec à Trois-Rivières
University of Waterloo
Le Collége Universitaire Glendon de L'Université York, Toront
University of South Bohemia České Budĕjovice
The Institute of Law of Shanghai Academy of Social Sciences
East University of Political Sciences and Law
International Association of Jewelry Merchandize Planning Professionals Limited (IAJMPP)
Shanghai Jianqiao University
The Office of Chinese Language Council International
Shandong Normal University
Ocean University of China
Qingdao University
Ningbo University
Beijing University of Posts and Telecommunication
Beijing Normal University
Zhejiang Normal University
Beijing University of Chemical Technology
Zhejiang Gongshang University
Xi'an Jiaotong University
University Alliance of Silk Road (UASR)
University of Cyprus, University House "Anastasios G. Leventis"
Chonbuk National University
Inha University
Myongji University
University of Zadar (Sveučilište u Zadru)
University of Rijeka
The International Business Academy, Copenhagen School of Design and Technology, Erhvervsakademi Midt Vest
Fribourg University
Qualint Network-Partnership
L`Université de Toulouse -Le Mirail
Commissariat à L'Energie Atomique
Université Paul Valéry Montpellier III
Université Nice Sophia Antipolis
Ecole Normale Supérieure Letters et Sciences Humaines
Université D'Orleans
Université de Bourgogne
Université Pierre et Marie Curie
Université Paris 13 (Nord)
Université Montpellier I Faculté de Droit
Université de Perpignan
Université de Poitiers
Agence Universitaire de la Francophonie
L`Université LILLE 1 Sciences et Technologies
L'Université d'Artois
L'Université d'Auvergne Clermont Ferrand I
L'Université du Littoral Côte d'Opale Dunkerque
L'Université d'Angers
L'Université Michel de Montaigne Bordeaux 3
L'Université de Caen Basse – Normandie - France
L'Ecole Pratique des Hautes Etudes, Sorbonne, Paris
L'Université Pierre Mendès France, Grenoble 2
L'Université d'Avignon et des Pays de Vaucluse
L'Université Charles de Gaulle-Lille III
L'U niversité de Savoie, L'Institut Universitaire de Technologie de Chambéry (IUT)
École Polytecnique
L'Université Jean Moulin, Lyon 3
L'Université Paul Sabatier Toulouse III
L'Université de Toulouse II- le Mirail
L Institut Catholique de Toulouse
International Black University
Karlsruhe University of Applied Science
Hochschule für Management, Essen
Deutsches Electronen, Synchroton Desy Hamburg
Brandenburg University of Technology Cottbus-Senftenberg
Freie Universität Berlin
Universität Duisburg Essen
Rhein-Westfalische Technische Hochschule Aachen
SRH University of Applied Sciences Calw
Brandenburg University of Technology Cottbus-Senftenberg
Hochschule Karlsruhe-Technik und Wirtschaft
Universitatea din Ioannina
Universitatea Democritus a Thraciei
Bhartiya Skill Development University Jaipur
Lovely Professional University
Jordan University of Science and Technology (JUST)
Carmel College Ltd
CyBureau
University of Cassino and the Southern Lazio
Universita Degli Studi Firenze
Università Degli Studi Della Calabria
L'Ordine Nazionale dei Giornalisti
Università Degli Studi di Catania
Università Degli Studi di Padova
Università di Bologna (Facoltà di Giurisprudenza "The Alma Mater Studiorum")
Società Dante Aligheri Il Mondo In Italiano
L'Università di Siena
Università degli Studi di Roma "La Sapienza"
Università per Stranieri di Perugia
Università degli Studi di Udine
Università degli Studi di Catania
Università degli Studi di Palermo
Università degli Studi di Ferrara
Università degli Studi di Messina
Università degli Studi di Brescia
Università degli Studi di Pavia
Università degli Studi di Verona
Università degli Studi di Genova
Società Dante Alighieri
University of Tsukuba
Yamanashi Gakuin University - The International College of Liberal Arts (iCLA)
KIZUNA Cultural Association
St. Kliment Ohridski'' University- Bitola
University for Information Science and Technology " St. Palul the Apostle " Ohrid
Universiti Utara Malaysia
Universidad de Monterrey (UDEM)
Universidad Autonoma del Estado de Hidalgo (UAEH)
Université Chouaib Doukkali d'el Jadida
Hassan II University Mohammedia - Casablanca
Vestvågøy School of Music and Art
Technische Universiteit Delft
Technische Universiteit Eindhoven
Universiteit Utrecht
Christelijke Hogeschool Ede
HAN University of Applied Sciences, Arnhem Business School
Universidad Nacional de Trujillo
University of Ucayali (UNU)
Bialystok University of Technology
University of Rzeszów (Uniwersytet Rzeszów)
Elblag University of Humanities and Economy
University of Warsaw
Regatul Unit al Marii Britanii si Irlandei de Nord
Business School, University of Huddersfield
Institutul de Chimie al Academiei Republicii Moldova
Academia de Muzică, Teatru şi Arte Plastice din Chişinău
Universitatea Pedagogică de Stat "Ion Creangă" din Chișinău
Universitatea de Stat "Alecu Russo" din Bălți
Universitatea Națională "Iurii Fedkovici" din Cernăuți
University of the Academy of Sciences of Moldova
Academy of Economic Studies
State University of Moldova
National Institute of Physical Education and Sport
University of Chisinau
Academy of Public Administration
Moscow State University of Education
Moscow State University of Psychology & Education
Federal State Educational Institution of Higher Professional Education "Chelyabinsk State University"
Moscow State Pedagogical University
Nikola Tesla University
The University of Novi Sad (Univerzitet u Novom Sadu)
The University of Beograd (Univerziteta u Beogradu)
The Megatrend University (Megatrend Univerzitet, Beograd)
The University of Kragujevac (Univerzitet u Kragujevcu)
The University of Niš (Univerzitet u Nisu)
Mining and Metallurgy Institute Bor (Institut za Rudarstvo i Metalurgiju Bor)
Alexander Dubček University of Trečin (Trencianska Univerzita A. Dubčeka v Trenčine))
University of Ljubljana (Univerza v Ljubljani)
Universidad de A Coruña
Universidad de Cantabria
Universidad de Zaragoza
Universitat Rovira i Virgili
Universitat Autònoma de Barcelona
Universitat de les Illes Balears
Universitat de València
Real Academia de Ciencias Económicas y Financieras
Agencia Española de Cooperación Internacional
Complutense University of Madrid
Unviersity of West Florida
Clayton College & State University
Louisiana State University and Agricultural & Mechanical College
Georgia State University, Atlanta - Andrew Young School of Policy Studies
Tiffin University
Kent University
Texas A&M University-Commerce School of Social Work
The University of Missouri – St. Louis
The Community College for International Development, Inc
North Dakota State University
The Mandel School of Applied Social Sciences, Case Western Reserve University
National Taipei University
University of Kairouan
University of Cathage
Çankaya University, Ankara (Çankaya Üniversitesi)
"Iurii Fedkovici" National University of Cernăuți (CNU)
University of Szeged (Szegedi Tudomànyegyetem)
"Eötvös Lorand" University, Budapest ("Eötvös Lorand" Tudomànyegyetem)
The University of Debrecen (Debreceni Egyetem)
Kossuth Lajos University, Debrecen
University of Pecs
"Liszt Ferenc" Zenemuveszeti Egyetem Budapest
John Von Neumann University, Kecskemét
University of Szeged
Jozsef Attila University
University of Debrecen
Tashkent State Pedagocical University